Yet again: Supreme Court refuses to send back Poet Varavara Rao to hospital!
Yet again: Supreme Court refuses to send back Poet Varavara Rao to hospital!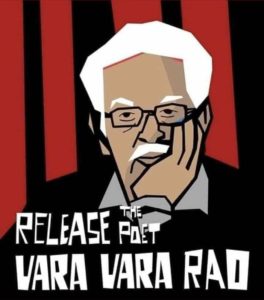 This November 3rd Varavara Rao will turn 80. And coming November 17th it will be two years of him being taken to custody by the Pune Police for his alleged connection with Maoists in the fabricated Bhima Koregaon Case.
By now, we all are aware of his health conditions. Last July he was diagnosed with Covid-19 and was admitted to Nanavati Hospital in Mumbai. But the Jail authorities hurriedly shifted him to Taloja Jail on 28th August without informing his family or lawyers just to "avoid judicial determination of his bail on medical grounds", as his bail petition hearing was scheduled on the very next day. Post his Covid infection he hasn't been provided with any special care in jail.
Varavara Rao's family, despite being rejected several times by different levels of judiciary, filed a petition ten days ago in Supreme Court to either direct the High Court to expedite the process or grant bail. And again, The Supreme Court refused to grant bail and didn't even considered sending him back to the Hospital. Though the judges expressed their concern regarding the fact that the Bombay High Court had failed to list the matter for so long and requested the High Court to take up a writ petition for him to be given treatment at a specialty hospital within seven days of being filed.
Time and again this State, all its machineries and the faces are proving themselves utterly anti-people. They are deliberately using the Covid situation to implement all their agenda and to confine people like Varavara Rao or Stan Swamy, who spent their entire life serving the people, behind the bars.
How indestructible these iron bars are they think?
#ReleaseThePoetAndHisCoPrisoners