PUDR report: Framed to Die – The Case of Stan Swamy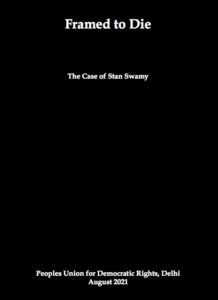 Marking a month since Stan Swamy passed away in judicial custody in a private hospital, a month in which no official inquiry, even the mandated magisterial inquest, has not been initiated, Framed to die: The case of Stan Swamy documents the manner in which Stan Swamy was framed, fettered, and finally forced towards a fatal illness under due process of law called Unlawful Activities (Prevention) Act.
Framed to Die argues that Stan's experiences of persecution provide an understanding of many others, including the 15 accused in the Bhima Koregaon case. Beyond chronicling Stan's persecution under law, Framed to Die documents why Comrade Stan was a dissenter and a true patriot and why the state feared and criminalized his dissent under the UAPA.