Video: Vernon v. State of Maharashtra: A Breakthrough in Bail Jurisprudence under the UAPA?
by PUCL India / @PUCLindia (Aug 7, 2023)
Arun Ferreira and Vernon Gonsalves were released after 5 years in jail!
Join our discussion on their bail order and to understand its implications! How can we advocate for the release of all political prisoners arrested under UAPA?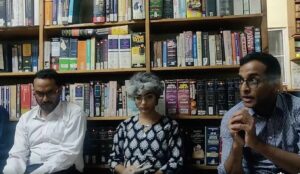 en | 1:29:01 | 2023
Watch video
---
UAPA disproportionately targets religious, ethnic minorities: Activist
10/08/2023
News Trail / by Umar Sharieef | NT
Discussing the Supreme Court's decision in granting bail to activists Vernon Gonsalves and Arun Ferriera accused in connection with the Elgaar Parishad case, members from People's Union for Civil Liberties said the bail order has significant implications for bail jurisprudence under the Unlawful Activities (Prevention) Act, UAPA, in the framework of criminal law.
The members highlighted the top court's bail-granting powers under the UAPA, which flows from the Zahood Ahmad Watali judgment.
Read more
---
Also read/watch:
● PUDR welcomes the release on bail of Vernon Gonsalves and Arun Ferreira today, but protests onerous bail conditions (PUDR / Aug 6, 2023)
● Video: Personal Liberty and the Indian Courts
en | 1h 42min | 2022
The discussion moderated by PUCL General Secretary, V Suresh, Arvind Narrain, VP Karnataka State PUCL and Kavita Srivastava, National Secretary PUCL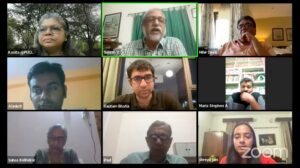 Watch video (PUCL fb page)
● Repeal UAPA – Persecution by Prosecution
Three Day consultation on 20th, 21st and 22nd January, 2021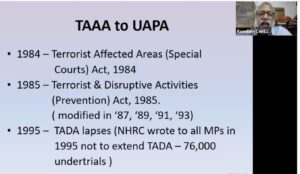 ► Repeal UAPA – Day Three (en + … | 2h 51min | Jan 2021)
► Repeal UAPA – Day Two (en +… | 2h 22min | Jan 2021)
► Repeal UAPA – Day One (en + … | 2h 17min | Jan 2021)