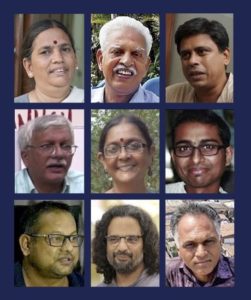 All the people who are the focus of this campaign have been accused of being associated with what has come to be known as the Bhima-Koregaon case.
At December 31, 2017 about 260 organizations had come together on to the common platform Elgar Parishad ('loud declaration committee') to challenge the rising tide of communal forces in India and to fight for maintaining the essentials of the Indian Constitution. The next day they all had gone to Bhima-Koregaon, where every year since the 1990s thousands of Dalits converge at the village Bhima-Koregaon to symbolically commemorate a battle fought in 1818. 
Charges against the Activists
– That they had made inflammatory speeches at the Elgar Parishad.
– That they are acting on behalf of, or are members of the outlawed Communist Party of India (Maoists).
– That they were plotting to assassinate the Prime Minister.
Lack of Evidence
As it turns out, most of those arrested were not even at the Elgar Parishad event, the charges about the links to Maoists entirely shown to be based on fabricated evidence and so far the charges about the assassination plot had not even a single piece of evidence produced.
The Imprisoned Nine: Who is …?
Who is Sudha Bharadwaj?
All posts related to Sudha Bharadwaj
Who is Sudhir Dhawale?
All posts related to Sudhir Dhawale
Who is Arun Ferreira?
All posts related to Arun Ferreira
Who is Surendra Gadling?
All posts related to Surendra Gadling
Who is Vernon Gonsalves?
All posts related to Vernon Gonsalves
Who is Varavara Rao?
All posts related to Varavara Rao
Who is Mahesh Raut?
All posts related to Mahesh Raut
Who is Shoma Sen?
All posts related to Shoma Sen
Who is Rona Wilson?
All posts related to Rona Wilson