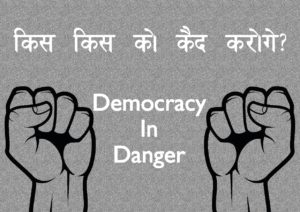 All the people who are the focus of this blog have been accused of being associated with what has come to be known as the "Bhima-Koregaon" or "Elgar Parishad" case.
To mark the bi-centenary of the battle of Bhima Koregaon in 2018, more than 200 Dalit, Bahujan, Ambedkarite and other organisations came together. The coalition organised the hugely successful and massively attended event, 'Elgar Parishad' (loud declaration committee), on December 31, 2017 in Shaniwarwada in Pune, once the seat of Peshwai power. This event, as per the organisers, was organised to expose the Navi Peshwai — an era of increasing repression on movements, alienation of minorities, increasing caste atrocities, anti-poor development policies and more.
Charges against the Activists
● That they had made inflammatory speeches at the Elgar Parishad.
● That they are acting on behalf of, or are members of the outlawed Communist Party of India (Maoists).
● That they were plotting to assassinate the Prime Minister.
Lack of Evidence
As it turns out, most of those arrested were not even at the Elgar Parishad event, the charges about the links to Maoists entirely shown to be based on fabricated evidence and so far the charges about the assassination plot had not even a single piece of evidence produced.
The Case of the Reliance Workers Satyanarayan Karrela, Babushankar Vanguri, 
Shankar Gunde, Ravi Marampelli and Saidulu Singapanga
The BK16: Who is …?
Who is Varavara Rao?
All posts related to Varavara Rao
Who is Sudha Bharadwaj?
All posts related to Sudha Bharadwaj
Who is Sudhir Dhawale?
All posts related to Sudhir Dhawale
Who is Arun Ferreira?
All posts related to Arun Ferreira
Who is Surendra Gadling?
All posts related to Surendra Gadling
Who is Vernon Gonsalves?
All posts related to Vernon Gonsalves
Who is Mahesh Raut?
All posts related to Mahesh Raut
Who is Shoma Sen?
All posts related to Shoma Sen
Who is Rona Wilson?
All posts related to Rona Wilson
Who is Gautam Navlakha?
All posts related to Gautam Navlakha
Who is Anand Teltumbde?
All posts related to Anand Teltumbde
Who is Hany Babu?
All posts related to Hany Babu
Who are the Kabir Kala Manch artistes Jyoti Jagtap, Sagar Gorkhe and Ramesh Gaichor?
All posts related to Kabir Kala Manch
Who is Stan Swamy?
All posts related to Stan Swamy