Who is Surendra Gadling?
Who is Surendra Gadling?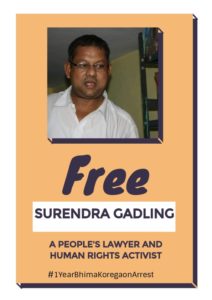 Surendra Gadling is a human rights lawyer and General Secretary of the Indian Association of Peoples' Lawyers (IAPL). Among those he has represented are numerous human rights defenders arrested on fabricated charges of being anti-national.
As the Indian Association of People's Lawyers (IAPL) notes about the recent arrest of Surendra Gadling (and many others):
"Advocate Surendra Gadling is an iconic example to many dalit lawyers defending their oppressed communities. Particularly after the Maharashtra Bandh and the 2nd April Bharat Bandh by dalit communities all over India, hundreds of poor dalit youth have been picked up and incarcerated in patently false cases. Many groups of dalit lawyers started getting together to defend them, even free of cost. No doubt this must have caused great unease for the vindictive state apparatus. The bias of the State is all the more obvious when the leaders of Hindutva organisations named in many complaints and FIRs as instigators of the Bhima Koregaon violence – Milind Ekbote and Sambhaji Bhide – whose anticipatory bail applications have been refused by even the Supreme Court, still roam free."
Brief Biography
Gadling began as an apprentice in the railways soon after finishing college in the 1980s. He actively participated in many socio-cultural movements in Nagpur. He along with his friends- Sambhaji Bhagat, an activist, a people's poet and balladeer, and Vilas Ghogre, also a prominent poet and activist from Mumbai who committed suicide to protest the 1997 Ramabai killings (https://www.hrw.org/reports/1999/india/India994-08.htm) of Dalits– started an organisation called Awhan Natya Manch. This group would organise cultural evenings in the bastis of Nagpur and engage in conversations around rights and oppressions.
Gadling began his career almost two decades ago in Nagpur fighting cases of those arrested under the draconian TADA (Terrorist and Disruptive Activities (Prevention) Act, 1985), and UAPA (Unlawful Activities Prevention Act, 1967).
In addition to his work as a lawyer, Gadling is also a leading Dalit rights activist. He was part of an independent fact-finding team that probed the 'encounter' deaths of 40 alleged Maoists killed by the police in Gadchiroli district in April. Last month, Gadling was also part of a team that visited Kashmir to condemn the persecution of human rights lawyers in the state.
In his nearly two-and-a-half decade long legal practice in Nagpur and other districts in the Vidarbha region of Maharashtra, Surendra Gadling has handled thousands of cases. He is known to have mastered stringent laws like TADA, POTA and later UAPA. "Almost all cases filed under these laws have been handled by him over last two decades. In them, barring only three cases, he managed to get acquittal in all others," says his junior partner Nihalsingh Rathod.
As Arun Ferreira, who himself was represented by Gadling when he was arrested and jailed for five years in 2007 for alleged Maoist activities and then acquitted after spending 40 months in jail reflects,
"Gadling has become a thorn for the state government because in his entire career, he has managed to get a lot of acquittals for political prisoners who were falsely charged with Naxalism and other crimes."
He also worked as a special public prosecutor on dowry-related cases and was one of the leading lawyers in connection with the Khairlanji agitation – a protest movement launched after the gruesome caste-murders of a Dalit family in Maharashtra.
He is also a lawyer for Prof. G.N. Saibaba, a wheelchair-bound Delhi University professor sentenced to life imprisonment by a district court in Gadchiroli for aiding the Maoists. Prof. Saibaba is appealing the verdict.
Saibaba's conviction has not just proved to be a major jolt to the human rights movement, as the rights defenders have argued in past year, it also landed Gadling in a vulnerable situation. Describing those several instances where he was "targeted" by the state, Gadling told the court that veiled and unveiled threats intensified after he decided to take up Saibaba's case.
"The police officers investigating the case would casually tell me I was next in the line. They even went to the extent of planting false allegations in the media. This was happening when I was appearing as a profession lawyer in the court," Gadling explained.
He also claimed that in at least five to six instances, the police, especially those in Gadchiroli and Nagpur have tried to implicate him in false cases.
"They would claim I am a wanted/ accused person even when I was appearing before them. But they never arrested me. This was only to break my morale. I have worked in the face of severe threats to my life and damage to my professional credibility. It has not been easy," he added.
India Civil Watch
Facebook: https://www.facebook.com/indiacivilwatch/
Twitter: https://twitter.com/indiacivilwatch
E-mail: indiacivilwatch at gmail.com