United Forum for Adivasi Rights protest demanding immediate release of Father Stan Swamy
United Forum for Adivasi Rights protest demanding immediate release of Father Stan Swamy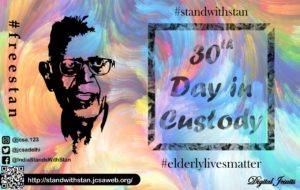 United Forum for Adivasi Rights protest demanding immediate release of Father Stan Swamy
06/11/2020
The Adivasi Samaj staged a movement to demand the immediate release of Father Stan Swamy. Furthermore, United Forum for Adivasi Rights staged a rally on Friday.
The members of the organization said that the rights of the Adivasi community are being curtailed. Father Stan Swamy is said to be the one who constantly fought for the rights of the Adivasi community. And the people condemned the central government for putting him behind the bars.
A protest rally was staged today demanding his immediate release. Also, a memorandum was handed over to the SDO addressing the CM mentioning the same.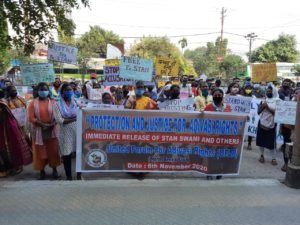 ---
An Adivasi Crusader Under Trial: A Blot On Indian Democracy – OpEd
05/11/2020
Eurasia Review / by Dr. Paul Newman
The state of Jharkhand is one of the most backward states of India… The three resources that are close to the heart of any tribal in the area is Jal (Water), Jungle (forest) an Jameen (Land), which they own but often lose to the vested interest aided by the state forces… This is an area where a number of missionaries have contributed a great deal to the development of the place in terms of providing quality education, health care and other basis necessities… It is in this context that an eighty three years old, Fr. Stanislaus Lourduswamy, popularly called as Stan Swamy, a Jesuit priest from Jamshedpur Jesuit Province was arrested by the National Investigation Agency on the 8th of October 2020 at 7.30 P.M under the Unlawful Activities (Prevention) Act.
Read more