For one and all: On personal liberty / A Tale of Two Arrests: Arnab Goswami & Stan Swamy
For one and all: On personal liberty / A Tale of Two Arrests: Arnab Goswami & Stan Swamy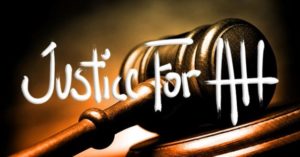 For one and all: On personal liberty
13/11/2020
The Hindu / by The Hindu
The Supreme Court has struck a blow for personal liberty, granting interim bail to television anchor Arnab Goswami through an order that one wished was also passed in the case of many others incarcerated without sufficient cause, and with the same priority, consideration and speed…
It is no idle whataboutery to point out that it was only recently that the apex court turned down a petition for bail on medical grounds for lawyer-activist Sudha Bharadwaj to the High Court with a gratuitous observation, "You have a good case on merits. Why don't you file a regular bail application?"
Read more
---
A Tale of Two Arrests: Anchor Arnab Goswami & Activist Stan Swamy
12/11/2020
The Leaflet / by Revati Siva Kumar
The arrest of Arnab Goswami evoked howls of protests from the centre, politicians and ordinary people, while that of octogenarian activist Stan Swamy under the dreaded UAPA barely registered. This "counter-terrorism law" is a convenient weapon for governments to arrest human rights defenders, journalists and protesters and Swamy was a symbol of activism, the voice of tribals and their struggles to address their broken hopes and aspirations related to displacements and land alienation beyond caste and religion.
Read more
---
Arnab entitled to bail, but what about 3.5 lakh undertials, 83 yr old priest, 80 yr old poet?
12/11/2020
Counterview / by Counterview
Senior Mumbai-based human rights lawyer Mihir Desai, in a Facebook post, "tears in the hypocrisy of the judgement and the utter naiveté that informs the discussion about it in certain quarters", comments Vistasp Hodiwala, adding, "It is the kind of stuff that only a lawyer of serious standing such as Mihir who deals with such cases day in and day out would be able to put up." …
This is what Mihir Desai wrote.
Read more
---
'Will Fr Stan Swamy Now Get a Sipper Cup?' Twitter on Arnab's Bail
11/11/2020
The Quint / by The Quint
Meanwhile, another Twitter user talked about jailed 80-year-old activist Varavara Rao's struggles in the jail.
The Supreme Court on Wednesday, 11 November, granted interim bail to Republic editor-in-chief Arnab Goswami in connection with the 2018 abetment of suicide case against him.
Among other things, the top court judges, raised serious concerns about deprivation of personal liberty in Goswami's case.
Read more
---

Nikhil Wagle: Personal liberty is of utmost importance. But should it be selective? Was it not important for Kashmiri, anti-CAA or Bhima-Koregaon activists? Was it not for Rhea Chakraborty?

Rishi Majumder: To be fair, #JusticeChandrachud did take a similar line in his dissenting judgment the Bhima Koregaon case. But while his words in the #ArnabGoswami #SupremeCourt case have carried weight those in the #bhimakoregaon case served only the purpose of record.

Prashant Bhushan: It was fine for the SC to hear Goswami's petition with lightning speed & release him. The SC struck a blow for liberty. What has anguished many people is why the SC does not display the same alacrity & concern for liberty when it deals with lesser mortals languishing in custody

People in jail
807 days – Sudha Bharadwaj
286 days – Sharjeel Imam
223 days – Meeran Haider
255 days – Ishrat Jahan & Khalid Saifi
178 days – Asif Tanha
171 days – Devangana Kalita & Natasha Narwal
58 days – Umar Khalid
30 days – Kishore Chandra Wangkhem
2 years – Aasif Sultan

…
---
Arnab's plea listed urgently in SC, Dushyant Dave alleges preferential treatment [read full letter]
11/11/2020
Sabrang / by Sabrangindia
As Arnab Goswami lodged in Taloja Jail awaits the expedited hearing of his petition against denial of interim bail, the President of Supreme Court Bar Association (SCBA) has, in strong words, protested against the 'extraordinary urgent listing' of the matter at the apex court. Mr. Dushyant Dave, the President of SCBA wrote a letter to the Secretary General of the Supreme Court pointing out the selective listing of matters that the registry is indulging in "for last eight months during Covid pandemic".
Read more
---
Was Arnab Goswami entitled to be released on bail? Of course
11/11/2020
Kractivist / by kamayani
Advocate Mihir Desai: Bail not jail is the rule.
Are the 350000 yes three lakh fifty thousand undertrials (many of them for years and many for petty offences) who are as on 11th November 2020 in jails across India likely to get bail?
More than 1,20000 of them have been jail as undertrials for more than a year. At some stage in their long prison life may be but within four days of arrest. Not in your wildest dreams.
Read more