Appeal to the Civil Society of India on two years of Varavara Rao's arrest
Appeal to the Civil Society of India on two years of Varavara Rao's arrest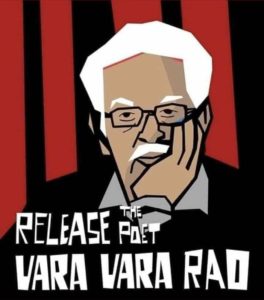 Release the Poet / by Release the Poet Committee
730 Days without 'Personal Liberty'! Now the Supreme Court itself is in the People's Courtroom.
Today, on 17th November 2020, it completes two years of Varavara Rao's arrest in the alleged Bhima Koregaon case. Since then the people's poet is in jail with alarming health adversities. His bail pleas or applications for a proper hospitalization were repeatedly opposed and rejected, making the situation worrying for his family, comrades & peoples at large.
Even prior to and after his arrest, the list of witch hunts was far from being short!
Starting from Prof. Shoma Sen, Rona Willson, Surendra Gadling, Sudhir Dhawale and Mahesh Raut, it continued with Arun Feriera, Vernon Gonsalves, Sudha Bhardwaj and followed by Anand Teltumde, Gautam Navlakha & Prof. Hany Babu. The list enhanced itself with new hunts from Kabir Kala manch activists Sagar Gorkhe, Ramesh Gaichor & Jyoti Jagtap. Till date, the last name is of the 83 years old Jesuit priest Father Stan Swamy. We anticipate that this is not the end of the list. We also know about Delhi University Professor G.N. Saibaba, who is 90% physically challenged, has remained incarcerated in jail since his arrest in 2014.
Recently, when the Supreme Court has set a precedent in the Arnab Goswami case saying that every "personal liberty" is to be honoured, the basic human rights of these prisoners are being deliberately violated, even in a few cases by pushing them towards a slow death in prison. None of these prisoners, unlike Goswami, is captive for any misappropriation in their personal benefits. Still they are consistently being heckled, deprived and derogated jointly by the administration and judiciary system of Indian state. When a bail is approved for Goswami in just eight days (even with special hearings at quite an unusual pace), at the same time hearing on Father Stan's application, an octogenarian with acute parkinson disorder, just for a water sipper (or a straw) to drink water, has been deferred by 20 days! People of this land didn't accept all these in good humour. From the outburst of the nationwide people's protests and the calls from the eminent personalities from almost every corner of the world, the Government should feel the pulse. Today not only the Government authorities, but the Supreme Court itself is standing in the fence at people's courtroom.
And we stand for justice! We demand immediate release of all the mentioned political prisoners along with all the other journalists, intellectuals and activists presently in Indian prisons, mostly under draconian UAPA.
This is indeed inspiring to see the way a considerable section of journalists, lawyers, intellectuals and activists reacted on this issue. We urge the civil society of India, who are still silent, to get vocal and to create consistent pressure on the state for the future's sake – before the whole country turns into a jail.
Release the Poet Committee
17th November, 2020
---
Also read: CITIZEN VARAVARA RAO VERSUS INDIAN STATE: CHARGED, MOMENTOUS SCENES FROM AN ARREST (Nov 2018)