Webinar: The Bhima-Koregaon case of imprisoned activists and India's autocratic turn
Webinar: The Bhima-Koregaon case of imprisoned activists and India's autocratic turn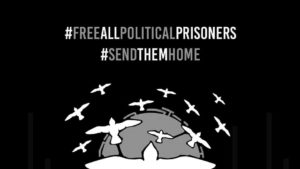 By InSAF India
Ideas Behind Bars – The Bhima-Koregaon case of imprisoned activists and India's autocratic turn
The webinar is part of InSAF India's campaign demanding the release of all jailed scholars, students and civic activists in India.
24 April 2021
USA: 10:30am EDT / 9:30am CDT / 7:30am PDT
UK: 3:30pm BST / Europe: 4:30pm CEST / India: 8pm IST
REGISTER TO JOIN THE ZOOM WEBINAR HERE
Our panellists
+ Jed Crandall Associate Professor, Biodesign Center for Biocomputation, Security and Society and School of Computing, Informatics, and Decision Systems Engineering, Arizona State University, USA
+ Suchitra Vijayan Author of Midnight's Borders: A People's History of Modern India and Founder and Executive Director of The Polis Project
+ Tarunabh Khaitan Professor of Public Law and Legal Theory, and Vice Dean, Faculty of Law, Oxford University, UK
Moderated discussion to be followed by Q&A with the audience.
​This webinar aims to shed light on alarming authoritarian developments in India that have scarcely received adequate international attention. It will critically examine the state's strategies to target individuals and all forms of dissent to unpack the mechanisms of what has been described as India's autocratic turn. Through the lens of the Bhima Koregaon case that includes 16 people incarcerated since 2018 (the BK-16), we will explore how apparently different strategies of suppression come together to destabilise democratic structures and constrict public discourse, freedom of speech and dissent. The webinar brings together experts who will speak about the legal, technological, media and human rights dimensions of the case.
Background note
Statement for the Immediate Release of the Bhima Koregaon 16 (BK16)
Evidence Fabricated, Planted in Computers!
April 14, 2021
Authoritarian regimes silence their critics – scholars and activists – by outright attacks on their person, putting them in prison, and by burning their books. In India, the Bharatiya Janata Party (BJP) government has gone one cowardly step further in the Bhima Koregaon case (henceforth BK16). It has manufactured the evidence on the basis of which it has put sixteen academics, intellectuals and human rights defenders behind bars under the draconian anti-terrorism law, the UAPA (Unlawful Activities Prevention Act). The UAPA permits the Indian government to hold citizens without bail or a trial for years, if not decades. The National Investigation Agency (NIA) claims that the 'evidence' of their anti-national activity (which included a plot to assassinate Prime Minister Modi and associating with a banned Left organization), are a set of letters on Rona Wilson's computer that incriminate several others of the BK16 as well.
Read more