Release Sudha Bharadwaj And Others Framed in Bhima Koregaon Case, Demand Friends & Family
Release Sudha Bharadwaj And Others Framed in Bhima Koregaon Case, Demand Friends & Family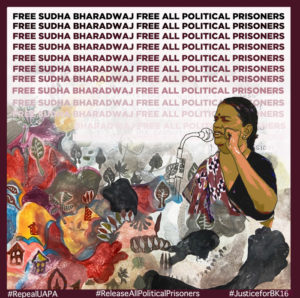 By Sudha Bharadwaj's Family & Friends
RELEASE SUDHA BHARADWAJ AND OTHERS FRAMED IN BHIMA KOREGAON CASE
CALL FOR INDEPENDENT TIME-BOUND PROBE INTO HACKING CLAIMS
Press Note
US cyber forensics firm, Arsenal Consulting has released a second report reaffirming the planting of 'incriminating documents' into Rona Wilson's (a co-accused in the case) computer through use of an external malware. Crucially, one of the incriminating documents relied upon by the prosecution against Sudha Bharadwaj was found on Rona Wilson's computer. In its report Arsenal Consulting has claimed that this document was remotely planted.
This report only substantiates what Family and Friends of Sudha Bharadwaj have consistently and independently maintained since the first raid in her house on 28th August 2018 that she is innocent and has been incarcerated for nearly three years on the basis of fabricated evidence.
The Massachusetts based consulting firm in its first interim report in February this year confirmed the 'deposit' of 10 letters by a sophisticated hacker in the laptop of one of the Bhima Koregaon accused, Rona Wilson. The second report of 27th March further confirms 'implant' of 22 documents remotely by the same unknown hacker using Netwire malware in a sophisticated exercise into the computer of Rona Wilson.
A detailed story examining the Arsenal Report was carried by The Washington Post in the US and Article 14 in India.
While examining Rona Wilson's device, Arsenal Consulting not only claims in its report that Wilson's computer was "compromised for over 22 months", but that the same attacker was responsible over a continued period of four years in tampering with the devices of several others associated with the Bhima Koregaon case. This has reference to the 2019 and 2020 investigations carried out by the Canadian group, Citizen's Lab, and Amnesty International which had found that many of the devices of the lawyers and colleagues of accused in this case were targets of the malicious malware Pegasus, and also emails carrying Netwire malware.
Such a claim is extremely serious and demands closer examination/scrutiny by the National Investigation Agency (NIA), which is currently investigating the matter. As an investigative agency, the NIA should have welcomed this report by Arsenal Consulting and immediately swung into action to either establish or deny the claims made therein. A refusal to further examine this report is deeply disturbing, and frightening for the citizenry as it raises serious questions on the State's intent in deliberately overlooking claims of such a vast and disturbing operation involving sophisticated cyber-attacks.
This report comes in the backdrop of a deadly second wave of Covid-19 cases sweeping Maharashtra jails. Recent reports suggest that 40 inmates of the Byculla Women's prison in Bombay have been found to be Covid positive, including Jyoti Jagtap, the cultural activist of Kabir Kala Manch, who is also among the 16 activists imprisoned in the Bhima Koregaon case.
It is most inhuman to continue to incarcerate Sudha and other accused persons for trumped up charges and on the basis of documents whose evidentiary value is in serious doubt. Sudha Bharadwaj is nearly 60 years old and suffers from co-morbidities of hypertension and diabetes, making her extremely vulnerable to serious infections of Covid. In spite of this, her bail application on medical grounds was rejected last year. Her continued imprisonment is a cruel farce.
As family and friends of Sudha Bharadwaj, we denounce the blatant misuse of executive power by the State to imprison her based on fabricated documents. We demand an immediate investigation by an independent, high powered technical committee into the claims made in the report of Arsenal Consulting, a firm of international repute, such that the matter is put to a proper scrutiny in a time-bound manner. Until such an independent examination is completed, those accused, given their age and the surging virus attack should be released, such that their precious lives are safeguarded.
Date: 24/04/2020
Kaladas Dehariya, Kavita Srivastva and Vimal Bhai
On behalf of: Sudha Bharadwaj's Family & Friends.
---
Also read: Book Release [PDF Copy]: Sudha Bharadwaj Speaks – A Life in Law and Activism (Jan 2021)