Happy Birthday Sudha Bharadwaj – Various Solidarity Statements
Happy Birthday Sudha Bharadwaj – Various Solidarity Statements
Happy Birthday greetings from Chhattisgarh
By Ajay T.G.
Video: Happy Birthday Sudha didi
en / hindi | 2:09 min | 2020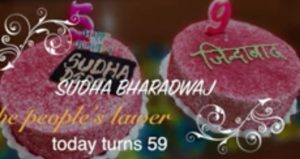 Watch video
By Pragatisheel Cement Shramik Sangh (PCSS)
Video: Happy Birthday Sudhaji, from Pragatisheel Cement Shramik Sangh
hindi | 1:30min | 2020
---
Some of the tweets of today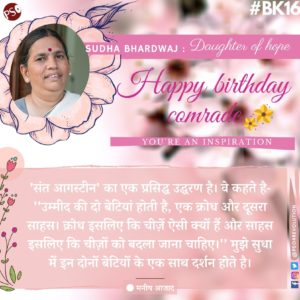 Radhika: #SudhaBharadwaj is a ray of hope and light for thousands of workers and adivasis, who face oppression day in and out. She is an inspiration to all young people who want to work for justice and take forward Babasaheb's ideas. Happy birthday Sister Sudha. #FreeSudhaNow #FreeBK16
***
Meera Sanghamitra: As I wish our dear Sudha a very happy birthday, I also imagine what a loss it is that a gem of a person has been deprived of working with all women, workers & adivasis closest to her heart for almost #800days now!
The World Salutes you Comrade.
#FreeSudhaBharadwaj #FreeBK16
***
Medha Patkar: sudha bhardwaj is behind the bars on her birthday for the 3rd time….her advocacy and commitment to the causes of the poor and courage to face the fascist forces … only to save the country…is a celebration of dedication…with heartfelt wishes Sudhaji.
***
Suchitra Vijayan: "We need groups organized to fight; they're the ones who can make a dent." It's Sudha Bharadwaj's birthday today; she's has spent over two years in prison with no evidence. Read about her remarkable life and work. #FreeSudhaBharadwaj #FreeBK16
***
Chitrangada: "Contract workers like us could not dream of going up against such big companies in court if not for her standing by us." "If not for her, hum aadivasiyon ko company paani mein bahaa deta." On #SudhaBharadwaj 's birthday, a reminder of what her clients say
***
Joy: Sudha Bharadwaj. Born in US, Schooling in Cambridge. Gave up US Citizenship. IIT Kanpur Alumnus. Left top Job. Studied Law and practiced in High Court to protect rights of Poor. Now she is in Jail for over 2 Years as she crossed path of Government from exploiting the Poor.
***
Pranesh Prakash: Sudha Bharadwaj is one of the many courageous prisoners of conscience that the Indian state has jailed while under trial over trumped up charges. At the same time @amnesty, which was originally set up to campaign for prisoners of conscience has effectively been banned in India.
***
Neha Swetambari: It will be a movie script. IITian… left US passport. professor of law …was offered judge post in HC.single mom. yet worked tirelessly for underprivileged. As of now, she needs to be out though #SudhaBharadwaj especially if no evidence is presented till date.
***
Srinivas Kodali: Is 800 days good enough time to be imprisoned without trail with no evidence for an imaginary conspiracy plot in a democracy? #FreeSudhaBharadwaj
***
Jhuma: This is how the state rewards lawyers who care. #SudhaBharadwaj in prison for 2 years now without a trial.
***
iStandWithFarmers: @PMOIndia if you are back from the photoshoot at the zoo, pl know that it has been more than 800 days since #SudhaBharadwaj had been jailed with no trial. All she was doing was strengthening the democracy at the grassroots, the same democracy which you were elected to represent
***
Gautam Bhatia: On Sudha Ji's third birthday in jail, re-reading this piece about her: "The Sudha Bharadwaj the government doesn't want you to know."
***
Sabrang: On occasion of activist Sudha Bharadwaj's birthday, watch our video where activist Teesta Setalvad talks about her work, the undemocratic nature of her arrest and the conditions of women activists nationwide and globally. #HappyBirthdaySudha
***
The Wire: "Since they cannot fight her in court, they are calling her a Maoist. "They don't have evidence, so they are converting the process itself into punishment," wrote Smita Gupta, 2 years after Sudha Bharadwaj was arrested in Bhima Koregaon case.
***
Indias Tribals~Adivasi: Sudha Bharadwaj gave up her US citizenship to work for #tribal rights in Chhattisgarh. On occasion of Sudha Bharadwaj's birthday today, take a look at her article on the #Adivasi people that she wrote back in 2015.
dialecticsoupy: release sudha bharadwaj. release all political prisoners.
artwork by sarah_modak
---
BEING SUDHA BHARADWAJ
By Release the Poet
Her 59th birthday.
And 3rd birthday in Jail!
What did she do to deserve this?
Sudha Bharadwaj threw off a cushy comfortable life that she could pursue easily being born and grown up to illustrious parents. At the age of 18 she denounced her US citizenship. Being an IIT graduate, she still could have chosen a less risky and easier life. But she opted for walking with the people, stand by the people in their rightful fight.
Read more