Remembering Stan Swamy. July 5, 2022
Remembering Stan Swamy. July 5, 2022
Click to enlarge posters
---
Ranchi

by Justice for Father Stan Swamy, Jharkhand
---
No Straws, No Bail, No Justice: Remembering Stan Swamy Who Died In Custody
05/07/2022
Live Law / by Areeb Uddin Ahmed
"When each dissenter is put behind bars, a thorn each is removed from the flesh of the ruling class." – Late Father Stan Swamy.
On July 5, 2021, a year ago, the Bombay High Court was informed that tribal rights activist Father Stan Swamy was no more and he passed away while being in custody in the Bhima Koregaon case. This happened after a month when he was admitted to private hospital in Mumbai, that too after the intervention of the High Court.
He arrested under the Unlawful Activities Prevention Act (UAPA) on October 8, 2020, for his¯ alleged links in the Bhima Koregaon- Elgar Parishad caste violence, which he vehemently denied. At the age of 83 and suffering from Parkinson's disease, Father Stan claimed he had difficulty eating and and drinking in prison.
Read more
---
India: A year on, demand for justice for Father Stan Swamy's death in custody
05/07/2022
By Amnesty International, International Secretariat
On 5 July 2021, 84-year-old Jesuit priest and human rights defender Father Stan Swamy died in judicial custody at the Holy Family Hospital, in Mumbai, India. On the first anniversary of his death, we, the 13 undersigned international and national human rights organisations, remember Stan Swamy's decades-long commitment to realising the rights of Dalit and indigenous peoples in India, especially in Jharkhand State. We recall our demand for an independent and effective investigation into his death in custody and for the immediate and unconditional release of the 15 other prominent human rights defenders charged in the same case.
Read full AI statement
---
Remembering Indian Jesuit Stan Swamy, who died a prisoner
05/07/2022
UCA News / by Cedric Prakash
He had the courage to question, to act when he did not get the right answers. He paid the price with his life.
The celebrated Greek philosopher Aristotle developed the methodology of asking a question to ultimately arrive at the truth. Jesuit Father Stan Swamy, whose first death anniversary is on 5 July 2022, was no stranger to philosophy or the scientific method.
For years, he coached generations of young women and men, in social analysis. He taught them to ask questions to understand what is happening in society.  Besides, he had the courage to question; and he asked the most difficult and uncomfortable questions.
Read more
---
Indian Jesuit priest's native village eternalize his martyrdom
05/07/2022
UCA News / by UCA News reporter
Residents of Virgalur in southern Tamil Nadu declare his death anniversary on July 5 as 'Father Stan Swamy Day'
Every July 5 will be observed as 'Father Stan Swamy Day' in memory of the Indian Jesuit priest and tribal rights activist who died in jail on this day, declared residents of his native village in the southern state of Tamil Nadu.
Read more
---
Letter by 12 Members of European Parliament

by Idoia Villanueva, Member of European Parliament
The situation of human rights defenders in India is very worrying. Today is the anniversary of the death in prison of HRD Stan Swamy, for which no one has been held accountable. We call on the President of India to launch an investigation and end the harassment of HRDs.
---
Video: Persecution of Religious Minorities and their Defenders in India
en | 1h 14min | 2022
By Indian American Muslim Council (IAMC) Channel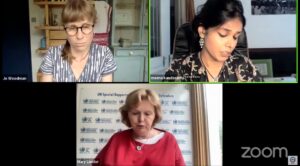 An event commemorating the death in custody of Father Stan Swamy
Watch video
---
Elgar Parishad case accused fast on Fr Stan Swamy's first death anniversary
06/07/2022
The Times of India / by Bella Jaisinghani
… His fellow prisoners in the Elgar case, activist Sudhir Dhawale, lawyers Surendra Gadling and Arun Ferreira, activists Mahesh Raut, Rona Wilson, Vernon Gonsalves, Sagar Gorkhe and Ramesh Gaichor, academicians Hany Babu and Anand Teltumbde and journalist Gautam Navlakha, observed a day's hunger strike 'satyagraha' in Taloja jail against the "injustice" done to Fr Stan and "lack of treatment during his illness". The jail denied there was such a protest.
The Bombay Catholic Sabha (BCS) and St Peter's Church, Bandra, organised a tribute in the church hall.
Read more
---
Bangalore

by AISA Karnataka
Civil society activists came together to remember Fr. Stan Swamy on his martyrdom day through a silent protest depicting the deteriorating democratic scenario in the country.
#RepealUAPA #ReleaseAllPoliticalPrisoners #ReleaseBK15

St. Joseph's College of Law, Bangalore
---

by All India Lawyers Association For Justice (AILAJ)
In commemoration of the first death anniversary of Father Stan Swamy, AILAJ held a nationwide protest. As members of the legal fraternity, we cannot turn a blind eye or stay silent about the particularly alarming situation in the country.
Pics: Protest in Andhra Pradesh, Karnataka, Tamil Nadu
Statement by AILAJ
---
London

by Jesuits in Britain
Campaigners from @JesuitMissions @JesuitsBritain have marched through London and held a prayer vigil outside the Indian High Commission to remember Father Stan Swamy, who died in Indian custody one year ago after false accusations of terrorism.
---
…
---