'First Step Towards Acquittal': Varavara Rao's Family on Bail by SC / #VaravaraRao
'First Step Towards Acquittal': Varavara Rao's Family on Bail by SC / #VaravaraRao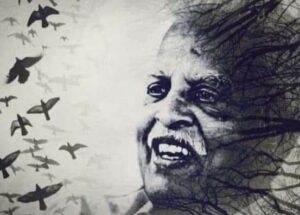 Bail the first step, hopes Varavara family
11/08/2022
The Telegraph / by Pheroze L. Vincent
The apex court has ordered Rao to remain in Mumbai and said the regular bail granted to him was not a reflection on the merits of case
Telugu litterateur P. Varavara Rao's family on Wednesday welcomed the Supreme Court's judgment granting him regular bail on the grounds of advanced age and multiple ailments, hoping this could eventually lead to him being in the care of his family in Hyderabad and possible acquittal.
Read more
---
'First Step Towards Acquittal': Varavara Rao's Family on Bail by Supreme Court
10/08/2022
The Quint / by Nikhila Henry
On 10 August, the Supreme Court granted bail to Telugu poet and activist Varavara Rao, who has been waiting for a respite on medical grounds for 19 months. His family, however, thinks the 83-year-old's fight is far from over.
"In today's mood, I am hopeful that he will come back home," Rao's daughter P Pavana told The Quint. "This is only the first step. We are hoping that he will be allowed to come to Hyderabad and be with his family. And finally, we are hoping that he will be acquitted in this case," N Venugopal, Varavara Rao's nephew, told The Quint.
Read more
---

by Samayam Telugu (Aug 10):
---

PEN International (Aug 10):
#India: We are pleased that poet #VaravaraRao has been granted regular bail today. However, he remains subject to onerous bail conditions and with a trial pending. If convicted, he faces a potential death sentence. We continue to call for his immediate and unconditional release.
---
Video


en | 5:55min | 2022
#VaravaraRao granted bail


Varavara Rao is no stranger to being imprisoned, but the poet and activist is also the conscience of our society – an intellectual we must protect from the excesses of a state determined to destroy dissenters.
Watch video
---

by Cedric Prakash (Aug 10):
Supreme Court Grants Bail To Varavara Rao On Medical Grounds In Bhima Koregaon Case, Deletes HC Condition. Delayed but good news Hopefully all incarcerated in #BhimaKoregaonCase will be given bail & acquitted incl late #FrStanSwamy
---

by Amnesty India (Aug 10):
We welcome Supreme Court's decision to grant regular bail to Varavara Rao, arrested in August 2018 & given interim bail last year on medical grounds.
But 13 others continue to be imprisoned without trial in the case.
Authorities must stop the crackdown & free them all.
#FreeBK16
---
…