Huge turnout at 205th anniversary of battle of Koregaon Bhima
Huge turnout at 205th anniversary of battle of Koregaon Bhima
Bhima Koregaon victory remembered in Sakleshpur
02/01/2023
The Hindu / by THE HINDU BUREAU
The anniversary of Bhima Koregaon victory was celebrated in Sakleshpur on Sunday. 
Hundreds of people took part in the procession held in memory of the battle held in 1818, in which a few hundred Mahar soldiers of East India Company defeated the Peshwa army at Bhima Koregaon in Pune. A replica of Bhima Koregaon pillar was carried along the procession. A federation of Scheduled Castes and Scheduled Tribes had organised the event.
Read more
---
Huge turnout at 205th anniversary of battle of Koregaon Bhima
02/01/2023
The Indian Express / by Chandan Haygunde, Sushant Kulkarni
As per a Dalit narrative, a British Army comprising 500 soldiers from the Mahar community defeated a 25,000-strong force of upper caste Peshwas in the battle of Koregaon Bhima.
The programme to mark the 205th anniversary of the Battle of Koregaon Bhima at the 'Jaystambh' in Perne village of Pune district passed off peacefully on Sunday. 'Jaystambh' is a 'military monument' erected by the British government in 1821 in memory of its soldiers, who fought against the Peshwas during the Maratha rule at Koregaon Bhima on January 1, 1818.
Read more
---
Bhima-Koregaon battle anniversary passes peacefully amid heavy security with lakhs in attendance
01/01/2023
The Hindu / by Shoumojit Banerjee
The 205th anniversary of the Bhima-Koregaon battle passed without incident as lakhs of Ambedkarites from across Maharashtra and the country congregated near the Ranstambh (victory pillar) in Perne village in Pune district on Sunday under heavy security cover.
Crowds have been steadily milling in Bhima-Koregaon since Saturday evening to pay floral tributes to the bravery of the Mahar soldiers who fought against the Peshwa forces in the 1818 battle.
Read more
---
Battle of Koregaon Bhima anniversary: Thousands start paying respects at Jaystambh amidst heavy police deployment
01/01/2023
The Indian Express / by Express News Service
The district administration said it is expecting a turnout of over five lakh people this year. The police identified dozens of social media posts which can potentially lead to law and order and situation and initiated a process to delete them.
Thousands of followers have started to arrive at the Jaystambh in Pune's Perne village marking the 205th anniversary of the Battle of Koregaon Bhima Sunday amidst heavy police deployment. The police said they are keeping a close watch on the social media posts related to the subject.
Read more
---
#BhimaKoregaon

by Siddhesh Gautam / @siddheshgautam (Jan 1, 2023):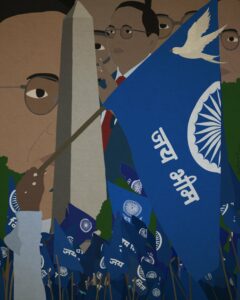 Happy New Year/ Happy Bhima Koregaon Day, 2023
#JaiBhim #BhimaKoregaon #bakeryprasad

by Shiv Kumar / @ShivKumar_mas (Jan 1, 2023):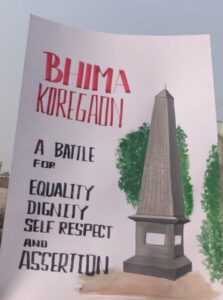 by AISA – DU / @aisa_du (Jan 1, 2023):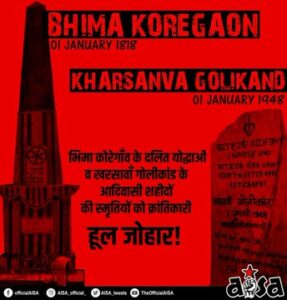 Remember the battle of Bhima Koregaon! Fight for the freedom of all those incarcerated in false cases! (1)
On January 1 every year, Dalits and Bahujans gather at Bhima Koregaon near Pune to commemorate the anniversary of the Bhima Koregaon (2)
near Pune to commemorate the anniversary of the Bhima Koregaon Battle of 1818 in which the British Bombay Native Infantry, comprising mostly Mahar Dalit soldiers, defeated the Peshwa army. This date is revered by the Dalits as a victory against the Brahminical Peshwas. (3)
But in 2018, those gatherings for the function were attacked violently by men carrying saffron flags, and one man was killed and several injured as a result. (4)
At Vadhu Budruk close to Bhima Koregaon, stones were pelted at Dalits and organised 'social boycott' against Dalits en route to the function. (5)
Though a large gathering of Dalit-Bahujans was fully expected at Bhima Koregaon, the police presence to protect the gathering was negligible. (6)
Milind Ekbote of Samast Hindu Aghadi and Sambhaji Bhide of Shiv Pratishthan Hindustan led the attacks; Ekbote is a former corporator from the BJP andBhide also is close to top BJP and Shiv Sena leaders. (7)
Since then, the BJP government has used the violence inflicted by the RSS lackeys as a scapegoat for an all out attacks on the people and the Constitution. (8)
Several activists and intellectuals have been arrested on fabricated charges under the draconian UAPA. (9)
Teachers and intellectuals like Hany Babu, Anand Teltumbde, Shoma Sen, Rona Wilson, Gautam Navlakha among others languish in jail while Milind Ekbote and the saffron goons roam free! (10)
We remember Stan Swamy! We remember your crimes in Bhima Kroegaon! Long live the battle of Dalits against caste system! Free all political prisoners!
AISA
---
Also Read:
● Karni Sena demands demolition of Bhima Koregaon memorial, ban on annual celebration (Scroll.in / Dec 30, 2022)
● Let's Remember the Lesson of Bhima Koregaon: Down with the New Peshwai (Sanhati│ by Sudhir Dhawale │ March 2018)
● The Myth of Bhima Koregaon Reinforces the Identities It Seeks to Transcend (The Wire | Anand Teltumbde | Jan 2018)
● Why peoples' coalitions are uniting against Hindutva — the 'new Peshwai' (Dailyo.in │ by Arun Ferreira and Vernon Gonsalves │ Jan 30, 2018)