Advocate Surendra Gadling moves Bombay High Court for default bail
Advocate Surendra Gadling moves Bombay High Court for default bail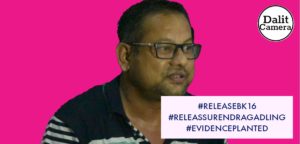 by Bar & Bench – Live Threads /Jan 18, 2023)
Bombay High Court is hearing the application filed by Surendra Gadling, accused in Bhima Koregaon, seeking default bail.
Advocate Yashodeep Deshmukh for Gadling: Gadling has moved an application before the High Court registrar seeking appearance in person. I thought it best to inform the court since I do not want allegations against me.
Deshmukh: If this goes in our favour then there will be no allegations. If not, then there might be allegations against me or the court. Adv Sandesh Patil for NIA: I do not have any documents. Court: Serve copy to the otherside. Place it after 2 weeks.
---
Got Certified Copy Of Bail Order To File Appeal After 55-Days: Bhima Koregaon Accused Surendra Gadling Justifies Delay In Default Bail Application
04/01/2023
Live Law / by Sharmeen Hakim
Advocate Surendra Gadling an accused in the Bhima Koregaon – Elgar Parishad Caste violence case has approached the Bombay High Court against rejection of his default bail application by the Special NIA Court.
In the plea under Section 21(4) of the NIA Act Gadling has blamed the prison department for the delay of nearly two months in receiving certified copies of the order of the Special Court, to justify the delay in filing the appeal.
Read more
---
Bhima Koregaon accused Surendra Gadling moves Bombay High Court for default bail
04/01/2023
Bar & Bench / by Neha Joshi
The accused moved the High Court challenging an order of June 28, 2022 passed by a Special NIA Court rejecting his default bail plea.
Surendra Gadling, accused in the Bhima Koregaon violence of 2018, has approached the Bombay High Court seeking default bail in the case.
Gadling, who is presently in judicial custody, moved the Court challenging an order of June 28, 2022 by the special court rejecting his default bail application.
Read more
---
HC asks NIA to respond to Surendra Gadling's default bail plea
04/01/2023
Hindustan Times / by K A Y Dodhiya
Surendra Gadling, an accused in the Elgar Parishad case, has filed an application in the Bombay high court challenging the June 2022 rejection of his default bail plea by the special NIA (National Investigation Agency) court. Gadling has also sought condonation of the delay of ten days in filing the application, which, he said, was because of a delay on the part of the prison authorities in providing a certified copy of the order. The HC has asked NIA to respond to the issue of condonation of delay.
Read more
---
Also read:
● NIA special court rejects default bail application of five accused (The Leaflet / June 2022)
● Explainer: Arsenal Report on Surendra Gadling (The Leaflet / Jul 2021)
---
By Adv Surendra Gadling Defence Committee:
With due credit to anonymous artist and to the jailed, to be jailed lawyers