Gautam Navlakha seeks bail, cites delay in commencement of trial
Gautam Navlakha seeks bail, cites delay in commencement of trial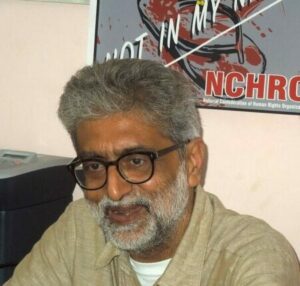 Gautam Navlakha Not Involved With Maoist Party, Rather Suspected By Them To Be A 'Govt Agent': Lawyer Tells Bombay High Court
28/02/2023
Live Law / by Sharmeen Hakim
The Communist Party of India (Maoist) suspected senior journalist Gautam Navlakha was a "government agent" who negatively impacted their movement, his counsel argued before the Bombay High Court on Monday.
He cited a document seized from co-accused researcher Rona Wilson's laptop to demonstrate the CPI(M)'s contempt for Navlakha is diametrically opposite from the UAPA charges NIA has levelled against him of "deep involvement in the activities of the CPI(Maoist) party," and of connections with the ISI and separatist movement of Kashmir.
Read more
---
Gautam Navlakha seeks bail, cites delay in commencement of trial
28/02/2023
India Today / by Vidya
Gautam Navlakha, an accused in the Elgar Parishad case, sought bail in the Bombay High Court on Monday. Navlakha sought bail after citing a delay in the commencement of the trial.
Gautam Navlakha, an accused in the Elgar Parishad case, sought bail in the Bombay High Court, citing a delay by the prosecution in filing a reply on the discharge application argued months ago.
Highlighting the issue, Yug Mohit Chaudhari representing Navlakha, submitted that there was no prospect of a trial in the case to commence in the near future, adding Navlakhha's discharge application was argued months ago, but the prosecution is yet to file its reply.
Read more
---
Elgar Parishad case: Proof against Navlakha is his own articles, HC told
28/02/2023
Hindustan Times / by HT Correspondent
The bench was further informed that the applicant was criticised by the government as well as the Maoists for his critical articles were a sure sign of his independence.
The Bombay high court, while hearing the regular bail application of Elgar Parishad accused Gautam Navlakha, was informed that the incriminating evidence showing his connection with the banned CPI (Maoist) group was the articles which he had written as a journalist.
Read more
---
No allegation of Gautam Navlakha committing any act of violence, lawyer tells HC
27/02/2023
National Herald / by pti
A division bench of Justices A S Gadkari and P D Naik is hearing the arguments on the bail plea, and the same will continue on Tuesday.
There is no allegation against Gautam Navlakha of committing any "act of violence" in the voluminous chargesheet filed in the Elgar Parisha-Maoist links case, the activist's lawyer told the Bombay High Court on Monday.
While arguing for the activist's bail, the lawyer also said that there was no prospect of the trial in the case to commence in the near future.
Read more
---

Thread by Live Law / @LiveLawIndia Feb 27, 2023:
[Bhima Koregaon – Elgar Parishad Case]
Bombay High Court is hearing senior journalist Gautam Navlakha's plea for regular bail. He is currently under house arrest.
Hearing before the bench of Justices AS Gadkari and PD Naik.
Adv Yug Mohit Chaudhary for Navlakha.
Chaurdhry – There are four compilations. In the bail application I have included everything that's in the charge sheet that I could file against the applicant.
HC – There are three orders of the HC, which one correctly mentions the basic facts?
Chaudhry – I will get back.
Chaudhry – The applicant is 74 yrs. Accused No. 11. He surrendered on 14.4.2020 to NIA in Delhi after his ABA was rejected.
He has been in custody for three years and he is presently under house arrest pursuant to SC's orders.
Chaudhry – He has been chargesheeted under sections 153A, 120B…
Chaudhry continues correcting the sections from the record.
HC – Where are the actual charges?
Chaudhry – Charges have not been framed. But let us take every word in the chargesheet.
Chaudhry – The four grounds are…
1. THERE is not a single allegation of committing ANY act of violence. Since there is no association of violence in the allegations, then no offence punishable under chapter 4 of UAPA made out.
Chaudhry – The basic ingredient for invocation of chapter 4 of UAPA is a commission, association, abetment or conspiracy to commit a terrorist act. That is not even alleged in this case.
Chaudhry – Therefore nothing involving life imprisonment is even attracted .. at the highest only section 38 & 39 of UAPA may be attracted if the chargesheet is taken as it is. Section 20 of UAPA is not attracted at all.
Chaudhry – There is no description of a terrorist act in this 54 volume chargesheet. There has to be something. It cannot be just imagination.
Chaudhry – Their answer always is he possesses the Maoist Constitution. Can that be a terrorist act? I have written articles critical of Maoist violence. I am a writer and a scholar.
…
To be continued tomorrow.
---
Also read:
● NIA highlights Gautam Navlakha's 'Pakistani connect' to oppose bail in Elgar Parishad case (India Today / Feb 21, 2023)
● Gautam Navlakha moves HC seeking regular bail (Hindustan Times / Dec 13, 2022)
---
Gautam Navlakha has a tremendous archive of writings from the 1980s to the present, documented by The Friends of Gautam Navlakha.
To read some of his recent writings and a full list of his articles with Economic & Political Weekly, the NewsClick newsportal and the platform Sanhati visit: Gautam Navlakha – Journalist, Human Rights Defender, Political Prisoner