Stan Swamy's second death anniversary: Stand Up for What Is Right, demand Co-Accused
Stan Swamy's second death anniversary: Stand Up for What Is Right, demand Co-Accused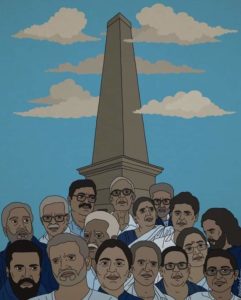 In a Letter From Jail, Stan Swamy's Co-Accused Ask President Murmu to Stand Up for What Is Right
05/07/2023
The Wire / by The Wire Staff
Today is Father Stan Swamy's second death anniversary.
Two years ago on this day, 84-year-old Jharkhand-based tribal rights activist Father Stan Swamy breathed his last while in custody. His death exposed the state's negligence and inability to protect prisoners. Swamy, a Parkinson's patient, spent close to a year in jail, deprived of the most basic facilities – one of which was a sipper to drink water from.
On his second death anniversary, 11 of his co-accused (Sudhir Dhawale, Rona Wilson, Surendra Gadling, Shoma Sen, Mahesh Raut, Vernon Gonsalves, Arun Ferreira, Hany Babu, Ramesh Gaichor, Sagar Gorkhe and Jyoti Jagtap) – all human rights activists and academics – write a letter to President of India Draupadi Murmu, who belongs to the tribal community that Swamy worked very closely with. Murmu, who recently spoke passionately about the conditions of Indian prisoners, was the governor of Jharkhand when Swamy's organisation, Bagaicha, was raided and eventually he was arrested by the National Investigation Agency.
Along with the letter, the still-arrested human rights defenders also announced their one-day symbolic hunger strike in Mumbai's Taloja and Byculla jails, where they are presently lodged.
The full text of their letter to the president is below.
Read more
---
Caged birds and prison songs: In chorus, Stan Swamy and the Bhima Koregaon accused kept hope alive
05/07/2023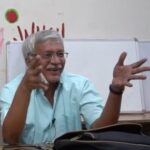 Scroll.in / by Vernon Gonsalves
A fellow prisoner's recollections of the Jesuit priest, who died on July 5, 2021.
"…I am ready to pay the price, whatever be it. But we will sing in chorus. A caged bird can still sing."
– Father Stan Swamy
When Stan Swamy, in his last message before landing in Navi Mumbai's Taloja Central Prison in October 2020, declared that a "caged bird can still sing", he was not talking about the tunes prisoners sing in jail. He had then not been imprisoned before that and was probably not acquainted with prison-singing in its various forms.
Read more
---
On Father Stan Swamy's second death anniversary, two letters, a painting and the triumph of memory against forgetting
05/07/2023
The Leaflet / by Sarah Thanawala
Father Stan Swamy's death was an international shock the ripples of which can still be felt, and a blot on the record of a State that treats criminal justice as its plaything. His legacy is treasured by his co-accused in the Bhima-Koregaon case inside the prison, and everyone who stands for justice and democracy outside the prison.
… The 11 incarcerated accused persons in the Elgar Parishad case are set to go on a day-long hunger strike today. They pen an imaginary letter from Swamy to the President of India Droupadi Murmu, terming it "Prayers that never came to be".
Read more
---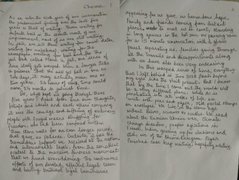 "Hopefully waiting" writes Shoma Sen from prison
07/07/2023
InSAF India / by Shoma Sen
This handwritten note by Shoma Sen marks five years in prison for the activist and academic.
As we enter the sixth year of our incarceration the predominant feeling over the last five years is that of waiting. From waiting for default bail in the seventh month of our imprisonment, most of us are still waiting. In jail, we sit there waiting for court dates, waiting for mulakaat, waiting for the newspaper, waiting for bail and for the jail God called Memo. In jail, our sense of time itself gets warped. When a lawyer tells a prisoner that she will get bail in one or two days, it may actually mean one or two years. 24 hours of clock time could mean 24 months in judicial time.
Read more