Three years ago on this day Hany Babu was arrested in the infamous Bhima Koregaon case
Three years ago on this day Hany Babu was arrested in the infamous Bhima Koregaon case
Three years ago on this day, around 4.30 in the evening, Hany Babu was arrested in the infamous Bhima Koregaon case
28/07/2023
Three years ago on this day, around 4.30 in the evening, Hany Babu was arrested in the infamous Bhima Koregaon case.
Today, so many marginalised students miss a teacher who always stood by them, and so many more who could have gained from the way he interrogated the elite brahminical pedagogy of the English department are denied of his presence.
And my daughter and me, miss a father and husband who was so deeply committed to us. And was always growing together with us.
Yet in one sense, Babu's incarceration is just one among the many cruel injustices happening around. A sign of the times when the Savarna Hindu State is destroying whole communities and regions and has invaded even the insulated university space, and is crushing any kind of oppositional voice that stands in its way. But in another sense, this is our very own personal pain. Which cannot be conveyed in words. But we are not defeated, and Babu is doing all that he was doing outside, inside in prison too – reading, writing, teaching and helping inmates to fight their cases.
I do not know what exactly we need to do to gain Babu's release and the release of so many other political prisoners who have all been punished for their public stances of resistance. No campaign and no pressure seem to touch this government and the violent and blood thirsty groups that support it. Sometimes it's easy to fall into despair. But that's not how political prisoners live. They live with the power of being on the side of compassion and justice. With the solidarity and prayers of those who bravely stand with them in this. And the undying intellectual curiosity that I see in each of the Bhima Koregaon people, and Babu, really makes it clear that prisons are never enough to crush some people. And that they will come out of this stronger and better than before. And till then, some of us will continue to fight for their release.
In whatever way you can, please support us in this.
---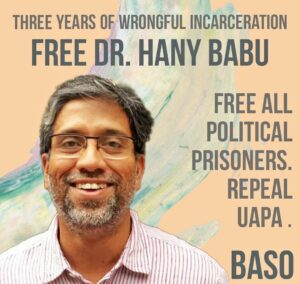 ---
Hany Babu completes three years in prison, "we are not defeated," says wife Jenny Rowena
28/07/2023
Maktoobmedia.com / by Maktoob Staff
Delhi University professor and noted academic Dr. Hany Babu, who is one of the UAPA prisoners in the Bhima Koregaon-Elgar Parishad case, completed three years of incarceration on Friday, 28 July, 2023.
On 28 July, 2020, the National Investigation Agency arrested Babu, an anti-caste activist and a staunch proponent of social justice.
Read more