Book launch of 'A Life in Poetry' – VV Rao's poems / The many ideas behind the birth of poetry
Book launch of 'A Life in Poetry' – VV Rao's poems / The many ideas behind the birth of poetry

Thread by Live Law / @LiveLawIndia (Sep 2, 2023)
Telugu poet and UAPA accused P #VaravaraRao along with his wife Hemlata at the launch of 'A Life in Poetry' – the first ever English translation of Rao's poems. Rao was seated quietly in the audience, as bail conditions don't permit him to read his poems publicly or be on stage.
@PenguinIndia has published translations of 48 out of nearly 700 poems written by Rao over the course of 60 years.
All poems pre-date his arrest in the #BhimaKoregaon – #ElgarParishad Case
VV Rao's wife P Hemlata launched the book. She left her home in Hyderabad two years ago and has lived with Rao in Mumbai since then, owing to his bail conditions.
Sr Advs @Ijaising & Mihir Desai, author Jerry Pinto and a couple of others spoke at the launch.
@Ijaising on poetry – There is a connection between law and poetry. The first laws in Greece and Rome were written in poetic form.
On the significance of VV Rao's bail order – Your case will forever be a beacon of hope to those who demand their right of health in prison.
Jerry Pinto – We do poetry to escape the incarceration called life…
Will there be singing in dark times? Yes, there will be singing in dark times. It will be about the dark times.
---
Mumbai: 'When you become the poem itself'
04/09/2023
Mid-day.com / by Hemal Ashar
Words took centre stage at launch of Varavara Rao's poetry book at the Press Club on Saturday
Varavara Rao's first anthology of poems translated into English called, 'Varavara Rao: A Life in Poetry' was released at a function held at Press Club Azad Maidan, late Saturday evening. The book is edited by N Venugopal and Meena Kandasamy. The book is a collection of poems translated by nine translators from 16 books published between 1968 and 2014.
Read more
---
The many ideas behind the birth of poetry that floats like a butterfly; and stings like a bee
07/09/2023
Hindustan Times / by Ramu Ramanathan
The turning point of Telugu literary history is 3 and 4 July of 1970. Poets who were invited to speak at the seminar/ poets who were not invited to the seminar/ poets who were going to be felicitated/ poets who were expelled/ poets who were going to boycott/ poets who were to be a member of the executive committee/ poets of all ideologies and -isms
Read more
---
Also read/watch:
● Tomorrow there won't be any classes': Activist Varavara Rao's poems get an English translation (Scroll.in / by Varavara Rao, N Venugopal & Rohith / Jul 2023)
● Varavara Rao A Live in Poetry
By VIRASAM
Book Launch || Live Laamakan || 13-07-23 || VIRASAM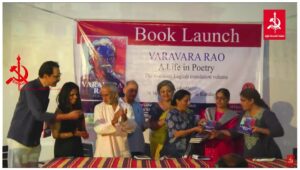 en / telugu | 2:16:35 | 2023
Watch video