MRSD: Release Activist Vernon Gonsalves on immediate Medical bail
MRSD: Release Activist Vernon Gonsalves on immediate Medical bail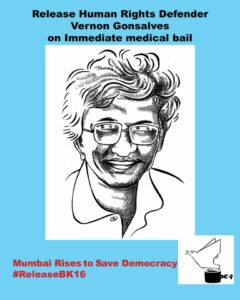 PRESS STATEMENT
Statement by Mumbai Rises to Save Democracy – a campaign of 40+ civil society groups
MRSD is distressed to learn about the health situation of 65 year old activist, poet, and writer Vernon Gonsalves, incarcerated since 2018 in the Bhima Koregaon/Elgar Parishad case. Gonsalves started developing several symptoms, such as fever, cough, dizziness, and nausea starting on August 30, as per the affidavit filed by his lawyers in Court. However, his health condition was met with neglect and it was only after pleading several times that he was finally taken to the state-run JJ hospital on September 6. Instead of continuing his treatment there, he was taken back to jail the same day. Upon hearing about this from other co-accused, Gonsalves' lawyers and family members moved the NIA court seeking temporary bail on medical conditions. During the hearing, the lawyers told the Court that apart from Dengue, he may also be suffering from Pneumonia. It is appalling that in spite of this he was not provided adequate medical care by the authorities, leading to his health deteriorating further. Only after the bail hearing on September 7, he was admitted to the state-run JJ hospital. Gonsalves has since been put on Oxygen support.
Notably, his condition deteriorated in prison, as mentioned in the affidavit. At first, he was administered Paracetamol and Erythromycin without examination. Upon no improvement, and recurring fever and cough, on the fourth day, upon requests of co-accused Sudhir Dhawale and other fellow inmates, he was given an injection and antibiotics and sent back to the barracks. The fever still did not reduce, and by the fifth day there was nausea, weakness and dizziness. Till that point also, no checkups were done.
Earlier, out of the 16 arrested persons, Jesuit priest Stan Swamy died at a hospital in Mumbai while in custody, due to gross delay and neglect on the part of the prison authorities to provide medical care and treatment. Several others have fallen sick or were delayed medical help for an ongoing health condition. Two other accused persons, Sudha Bharadwaj and Varavara Rao, are currently out on bail. The latter, who is out on medical bail, similarly suffered medical neglect in jail and delayed treatment during the pandemic.
The activists, academicians, and lawyers incarcerated in the case have been arrested in multiple rounds, starting from June 2018, months after saffron flag carrying mobs attacked Dalit- Bahujans who had gathered at Bhima Koregaon for its bicentennial anniversary of the battle of Bhima Koregaon. The denial of timely medical treatment and care to not just these undertrials but several others indicates the callous attitude of the prison authorities and state governments, which is in contravention to national and international guidelines of human rights and individual dignity.
Apart from Gonsalves, the other accused persons in custody are Sudhir Dhawale, Rona Wilson, Surendra Gadling, Shoma Sen, Mahesh Raut, Arun Ferreira, Anand Teltumbde, Gautam Navlakha, Hany Babu, Sagar Gorkhe, Ramesh Gaichor and Jyoti Jagtap.
We demand that activist Vernon Gonsalves be provided timely and proper medical care and that all required tests and examinations be conducted forthwith. We also demand that his family and advocates be kept regularly updated on his medical status and provide access to the medical professionals in the hospital to monitor his condition. We further demand that activist Vernon Gonsalves be granted immediate bail on medical grounds and be released.
We also demand that all the prisoners who are suffering from medical ailments should be released on bail as neither the jail nor the government hospitals are equipped to address emergency medical situations.
Mumbai Rises to Save Democracy
Participating groups:
People's Union of Civil Liberties (PUCL), Committee for Protection of Democratic Rights (CPDR), Citizens for Justice and Peace (CJP), New Trade Union Initiative (NTUI), Trade Union Centre of India (TUCI), Student Islamic Organisation (SIO), Ambedkar Periyar Phule Study Circle (APPSC) – IIT Mumbai, Co-ordination Of Science And Technology Institute's Student Association (COSTISA), LEAFLET, Police Reforms Watch, National Confederation of Human Rights Organisations (NCHRO), Innocence Network, Association for Protection of Civil Rights (APCR), Indian Christian Women's Movement – Mumbai Chapter, Satyashodhak Feminist Collective, Bebaak Collective, Forum Against Oppression of Women (FAOW), LABIA- A Queer Feminist LBT Collective, Awaaz-E-Niswaan, Jagrut Kamgar Manch (JKM), Majlis, Indian Muslims for Secular Democracy (IMSD), Women against Sexual Violence and State repression (WSS), Bharat Bachao Andolan (BBA), Indian Social Action Forum (INSAF), People's Commission for Shrinking Democratic Spaces (PCSDS), Human Rights Defenders Alert-India (HRDA), Human Rights Law Network (HRLN), Cause Lawyers Alliance, National Alliance of People's Movements (NAPM), Justice and Peace Commission, Bastar Solidarity Network (BSN), Nivara Hakk Suraksha Samiti, Kashtakari Sanghatna – Palghar, Sarvahara Jan Andolan – Raighad, Shramik Mukti Sangathana – Thane, Jagrut Kashtkari Sanghatana – Raigad, students from various colleges in Mumbai including Homi Bhabha Research Centre, St. Xaviers and Tata Institute of Social Sciences, FTII Alumni and others.
---
Also read:
● Bhima Koregaon, COVID-19 and custodial apathy in jails (Mumbai Rises to Save Democracy / July 2021)