NCHRO calls for solidarity to Lawyers and Human Rights Defenders who are arbitrarily detained
NCHRO calls for solidarity to Lawyers and Human Rights Defenders who are arbitrarily detained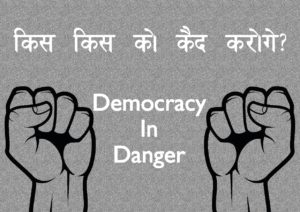 By National Confederation of Human Rights Organizations (NCHRO)
27/09/2022
This letter elaborates our concerns about the unlawful detention of lawyers and other human rights defenders who were arrested on September 22nd, 2022 in an early morning raid along with over 100 others across the country by the National Investigation Agency (NIA), the principal counter-terrorist task force of India and Enforcement Directorate. The activists have been arbitrary detained under repressive laws including the Unlawful Activities (Prevention) Act (UAPA). Such detentions have become a regular practice of the present government…
The Bhima Koregaon case is just one emblematic example of the Indian authorities' increasing use of anti-terror legislation, particularly the Unlawful Activities (Prevention) Act (UAPA) to punish those who ask questions about the illegitimate anti-minority and anti-poor stances.
Read full statement
---
The National Confederation of Human Rights Organisations (NCHRO) halts its work in the country
28/09/2022
By National Confederation of Human Rights Organizations (NCHRO)
The National Confederation of Human Rights Organisations (NCHRO) halted its work in the country as the news came that the Ministry of Home Affairs (MHA) had banned the organisation. This is a reprisal for the organization's human rights work. The NCHRO is very proud of the vital human rights work carried out by the confederation.
As a result, we are suspending all our activities. Effective immediately, NCHRO halted all its programmes and we are not engaged and responsible for any posts on social media.
We will pursue legal remedies against this injustice.
Sincerely,
Prof A Marx