Should anyone be jailed for shouting 'murdabad'?/ Video: Personal Liberty and the Indian Courts
Should anyone be jailed for shouting 'murdabad'?/ Video: Personal Liberty and the Indian Courts
Supreme Court's suspension of Dr. G.N. Saibaba's acquittal: 'Technical grounds are also substantive', says senior advocate, Mihir Desai
26/10/2022
The Leaflet / by Gursimran Kaur Bakshi
Three recent judgments, controversial for their adverse impact on civil liberties, came in for critical review at an online event, organised by the People's Union for Civil Liberties.
On October 25, the human rights body, People's Union for Civil Liberties ('PUCL') hosted a webinar on the effect of three recent judgments: Jyoti Japtap versus NIA (in which the Bombay High Court denied bail to activist and performer Jyoti Japtap, detained as an accused in the Bhima Koregaon case), State of Maharashtra versus Mahesh Kariman Tirki & Ors. (in which the Supreme Court stayed the acquittal by the Bombay high court of scholar, writer and activist Dr. G.N Saibaba's conviction in a Maoist links case), and Umar Khalid versus State of NCT of Delhi (in which the Delhi High Court denied bail to activist Umar Khalid, detained as an accused in the Delhi riots case).
Read more
---
Should anyone be jailed for shouting 'murdabad,' says senior advocate Mihir Desai
26/10/2022
Scroll.in / by Scroll Staff
He made the statement during a discussion on three judgements that denied bail to activists Jyoti Jagtap and Umar Khalid.
Should a person be jailed if he shouts murdabad (death to) slogans, asked senior advocate Mihir Desai during an event organised by People's Union for Civil Liberties on Tuesday, reported Live Law.
He made the statement during a discussion on three judgements that denied bail to activists Jyoti Jagtap and Umar Khalid and stay on the acquittal of former Delhi University professor GN Saibaba.
Read more
---
Conspiracy Allegation Used To Fill Gaps, Speeches Given A Criminal Colour: Gautam Bhatia On Umar Khalid, Jyoti Jagtap Bail Orders
26/10/2022
Live Law / by Padmakshi Sharma
People's Union for Civil Liberties (PUCL) hosted an online event to discuss three recent judgements pertaining to civil liberties. The judgements included Bombay High Court's denial of bail to Jyoti Jagtap (Jyoti Jagtap v. National Investigating Agency and Anr.), Supreme Court's stay on the acquittal of Dr G.N. Saibaba (State of Maharashtra v. Mahesh Kariman Tirki And Ors.) and Delhi High Court's denial of bail to Umar Khalid (Umar Khalid v. State of NCT of Delhi).
Read more
---
Video: Personal Liberty and the Indian Courts
25/10/2022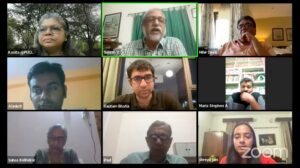 en | 1h 42min | 2022
The discussion examines the recent three judgements relating to
► The denial of bail of Jyoti Jagtap by the Bombay High Court in the Bhima Koregaon Conspiracy case.
► The stay on the Bombay High Court judgement of acquittal/discharge of Dr. GN Saibaba and others by the Supreme Court
► The denial of bail by the Delhi High Court of Umar Khalid in the Conspiracy case of the Delhi Riots of 2020.
Senior Advocate Mihir Desai and Advocate Gautam Bhatia spoke at the meeting and responded to these judgements.
An update on the delay in the release of Siddique Kappan was shared by Advocate Mohammed Danish from Kappan's legal team
The discussion moderated by PUCL General Secretary, V Suresh, Arvind Narrain, VP Karnataka State PUCL and Kavita Srivastava, National Secretary PUCL
Watch video (PUCL fb page)
---

by Live Law (Oct 25, 2022)
People's Union for Civil Liberties (PUCL) hosts an online discussion on 3 recent judgements- denial of bail of #JyotiJagtap; Supreme Court's stay on the acquittal of #DrGNSaibaba and; the denial of bail of #UmarKhalid
The judgments will be discussed by Senior Advocate Mihir Desai (@mihirde19079979) Advocate Tara Naruala (@taranarula1) and Advocate Gautam Bhatia (@gautambhatia88)
Advocate Gautam Bhatia: We often hear that the trial courts and the High courts, when they are dealing with UAPA, have their hand tied owing to the text of the UAPA and the Watali judgement. I believe that there is space for the courts to work around.
…
Desai: Jyoti's name was there in FIR from Day 1 as having shouted slogans at Elgar Parishad and being part of a play which dealt with issues such as demonitisation and dalit rights, which is now considered by the court as serious.
Desai: Most important aspect is the question of frontal organization. Jyoti was a part of Kabir Kala Manch, which is a frontal organisation but no-one knew that it was a frontal organisation.
Desai: You can't throw names that this is a frontal organisation unless you come with a clear government notification. What is the basis of holding Kabir Kala Manch as a frontal organisation? Nothing.
Desai: Just the other day the prime minister called narmada bachao andolan as an urban naxal movement – anything can be called…which is okay for politicians but for courts to hold such organisations as frontal organisation is wrong.
Desai: In Jyoti Jagtap's case, even prosecution admitted that there were around 150 organisations…even retired HC and SC judges included in Elgar Parishad…how are you picking one or two members like that? There is no link.
…
---
Also read:
● Inconsistencies in Bail Orders Mean Individual Liberty Is Now the Outcome of Judicial Lottery (The Wire / Oct 2022)
● Kabir Kala Manch Incited Hatred By Ridiculing Phrases Acche Din, Demonetization In Plays: Bombay HC [read order] (Live Law / Oct 2022)
● Supreme Court Stays Release Of Prof GN Saibaba & Others In UAPA Case, Suspends Bombay HC's Acquittal Order (Live Law / Oct 15, 2022)
● Report: UAPA – CRIMINALISING DISSENT AND STATE TERROR (PUCL / Sep 2022)


Download report